Golf Zoo was created by golfers and travel professionals with over 40 years of experience. A one-size fits all approach might work well for some things, but we think golf vacations should be tailored to you. That's why our motto is Golf Vacations Fit to a Tee. Our Golf Vacation Specialists help you tailor your vacation to fit your needs and budget, and actually live and play in the destinations they specialize in. Their expertise and commitment are fueled by a genuine love of the game. Count on us for personalized service and accurate, unbiased information. Whether you're traveling with friends or planning a corporate outing, leave the details to Golf Zoo. We'll deliver a high quality golf vacation at a competitive price.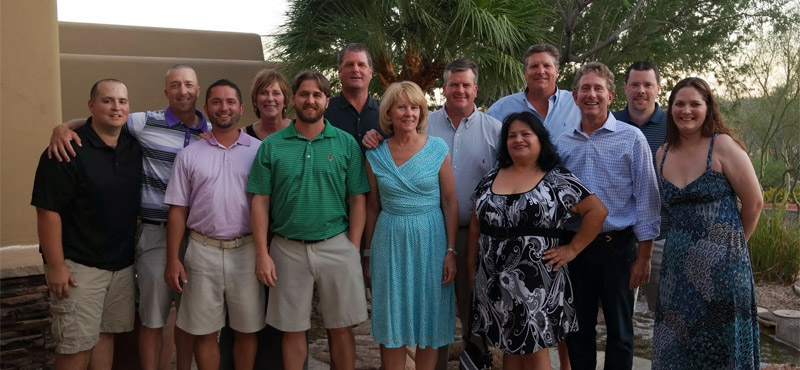 The Golf Zoo Team - Scottsdale, AZ 2013
Pictured (from left to right): Craig Lipinski, Scott Curry, Craig Gordon, Lori Greene, Mike Alfano, Glen Parizo, Jean FitzGerald, Christopher Parcell, Diana Crosthwaite (front), Mark Sutherland (back), Ed Holofcener, Chad Orton and Kris Jordan. See below for details!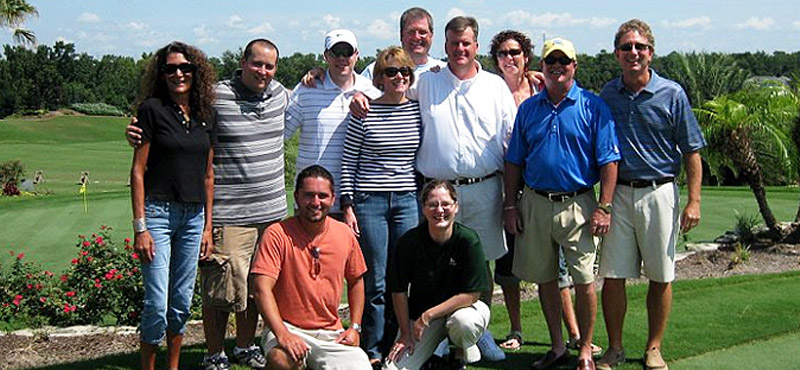 The Golf Zoo Team - Orlando, FL 2010
Pictured (from left to right) Top: Linda Gore, Craig Lipinski, Chad Orton, Jean Kmiec, Glen Parizo, Chis Parcell, Lori Greene, Tom Roderick, Ed Holofcener. Bottom: Craig Gordon, Kris Jordan. Not Pictured: Shelley Quinn, Mark Sutherland, Mike Alfano, Rick Holofcener, and Nate Hunter. See below for details!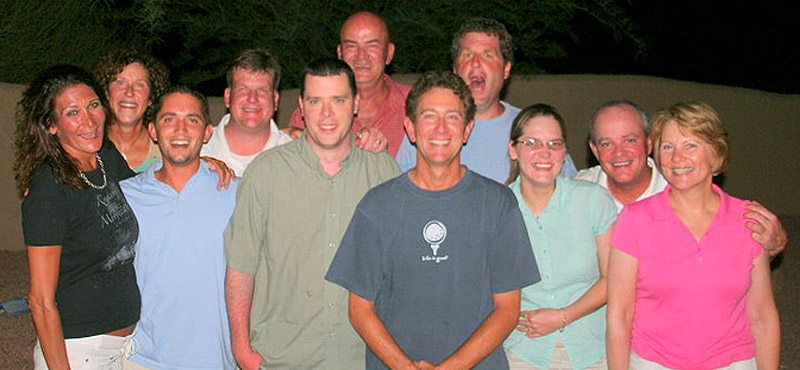 The Golf Zoo Team - Scottsdale, AZ 2007
Pictured (from left to right): Linda Beth Gore, Lori Greene, Craig Gordon, Chris Parcell (CP), Chad Orton, Lawrence Heraty, Ed Holofcener, Glen Parizo, Kris Jordan, Tom Roderick & Jean Kmiec. Not Pictured: Shelley Quinn, Mark Sutherland, Mike Alfano, Rick Holofcener, and Craig Lipinski. See below for details!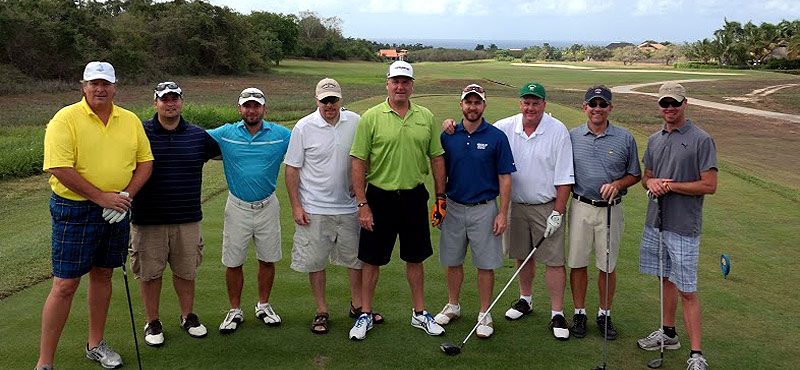 The Golf Zoo Team - Dominican Republic 2015
Pictured (from Left to Right): Mark Sutherland, Craig Lipinski (LipSkippy), Craig Gordon, Chad Orton, Glen Parizo, Mike Alfano, Chris Parcell (CP), Ed Holofcener, Kurt Hoffman. Not Pictured: Lori Greene, Diana Crosthwaite, Rick Holofcener, Jean Fitzgerald, Jessica Evanick. See below for details!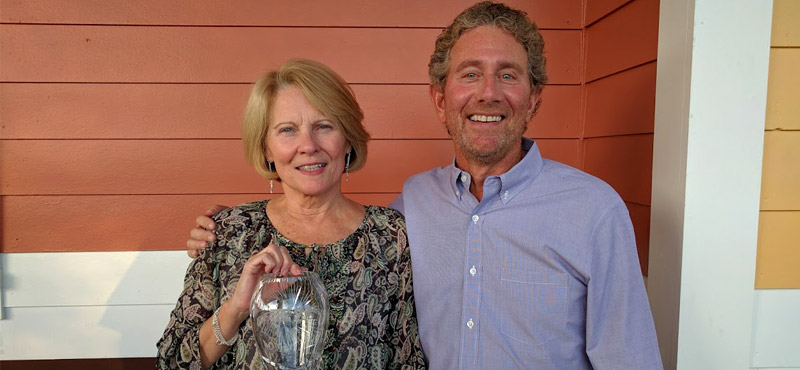 Jean Fitzgerald & Ed Holofcener - August 2016
Previous
Next
»

Christopher Parcell
Vice President
Phoenix / Scottsdale Office
"CP" is celebrating his 17th year in the Golf Vacation business this year. Originally from Austin, TX, Chris has lived in the Scottsdale area with his wife Michelle since 1999, and has witnessed his own handicap go from 12 to 20 since the birth of his daughter Abigail in 2003.
The founding member of the Scottsdale based "CPGA" where wagering is more revered than actual skill or work ethic on the range, CP has been "totally lucky" enough to score 2 Holes in One - the first in 1993, and the 2nd in 1996.
»

Craig Gordon
Vice President of Sales & Marketing
Mid Atlantic Office
Craig, a Maryland native, graduated from Coastal Carolina University in Myrtle Beach with a degree in Professional Golf Management and Marketing. After spending 7 years as a Golf Professional and rarely having the opportunity to work on his own game, he joined the Golf Zoo team in 2005. Now playing all the golf he can handle is a part of the job!
Craig has been around golf his entire life, taught entirely by his dad on their backyard green and driving range. Now he and his wife Amber have 2 children - Lyla who is 10 and Connor who is 7. They're just starting to work on their golf swings!
»

Lori Greene
Golf Vacation Specialist
Phoenix / Scottsdale Office
Lori Greene hails from the Big Apple. She pioneered her way to the Wild West in 1989 and settled in the beautiful city of Scottsdale AZ.
Lori began her exciting career at Golf Zoo in 2002 and has the distinction of being one of the original Golf Vacation specialist with the company.
Her knowledge of the locale is second to none. Resorts, Golf, nightlife and dining are just the tip of the iceberg of her extensive expertise in her home town.
»

Glen Parizo
Golf Vacation Specialist
Orlando Office
Glen has been playing golf for over 45 years and is a native of Upstate New York. Glen has been with Golf Zoo almost 13 years and basically started the Florida region for Golf Zoo.
He has played competitive golf over the years and at one time had a 1 Handicap. That's not the case now - working too hard at Golf Zoo and loving it. "How great is it to be a passionate golfer and talk about it every day!"
Glen's son Alex 22, is attending Full Sail University in Orlando, studying Sports Marketing and Media. Glen is always very upfront and honest when dealing with his clients, you always know what you're getting.
»

Mark Sutherland
Golf Vacation Specialist
Orlando Office
Mark is a native Floridian living in the Orlando area and has played courses all over Florida and the United States, plus Caribbean and Bermuda since taking up the game at the age of 7. He lived in North Carolina for eight years as well... that may explain the slight southern accent and high expectations for great southern hospitality.
Like others that have played the game, Mark was a good player through college and a few years after, but now enjoys traveling and meeting with Resort and other lodging partner properties and golf course partners throughout the Florida, Caribbean, and Bermuda destinations. Plus playing a round here and there! He has vowed to get his game back, but after all these years and time dedicated to taking care of golf groups, we aren't betting on it!
»

Mike Alfano
Golf Vacation Specialist
Myrtle Beach Office
Mike grew up in New Jersey before migrating south to Myrtle Beach, SC in 2000 to attend college at Coastal Carolina University. Since living there he has picked up the game of golf. Even though he considers himself a hack, he still loves the game.
When Mike isn't working or out on the course, he likes to spend time with his wife, Sybil and their son Shane, as well as playing roller hockey and surfing. Mike also enjoys travelling, having been lucky enough to go to Fiji, Australia, Costa Rica, and the Caribbean. Mike is quite content getting to live in a place that offers him as many courses and waves as he can handle.
»

Diana Crosthwaite
Golf Vacation Specialist
San Diego, CA Office
Diana has been in the Travel Industry for over 30 years and has spent the last 7 years specializing in Golf Holidays.
She only wishes she had more time to play golf as she enjoys it and finds it to be relaxing. She especially likes Links Style courses, thus likes golfing in Scotland and Ireland.
A few of her favorite courses are the ones that she scores good on! Lol. The Glashedy course at Ballyliffin Golf Club in Northwest Ireland is one of the first ones to come mind as a favorite course, for her the challenge was just right and the scenery spectacular. The Quivira golf course in Los Cabos, Mexico, again a great challenge and the Ocean Views were awesome. Oh yeah, did she mention the Taco / Tequila Stations on this course - that made for a fun round of golf. She thinks anyone would enjoy a round of golf on the Kingsbarns course in Scotland - just be prepared if your ball ends up in a bunker!
»

Scott Curry
Golf Vacation Specialist
Southern California Office
Scott grew up in San Diego until he thought he was good enough to be a professional golfer. He moved to Palm Springs and soon realized he was nowhere near good enough!
After four years in Palm Springs caddying at The Tradition Golf Club and playing a bunch of golf, Scott moved to the Oregon coast to start caddying at Bandon Dunes Golf Resort. This last summer was his 13th year caddying and he continues to caddy when he isn't too busy with Golf Zoo.
Although he still plays to about a +2 handicap, he is way too busy spending time with his wife, Tracy and two beautiful girls Addison, 8 and Elise, 6. Scott has tried to get his girls into golf, but ballet and gymnastics seem to be the chosen hobbies for now!
»

Kurt Hoffman
Golf Vacation Specialist
Southern California
As a young golfer growing up in Texas with old Wilson blades and a few persimmons, Kurt always dreamed of moving to Arizona to further pursue his love of the game. Now 30 years later and owning slightly better clubs, he has worked, caddied, and played all over the desert southwest and the inter-mountain west to become a knowledgeable spokesman to the game of golf and all golfers' wishes, wants, and needs. With customer service being paramount, Kurt will always have the golfer's best interest in mind when preparing your next golf vacation.
After 2 decades in the desert southwest, he is now settling down in sunny Southern California with long time girlfriend Erin. Centrally located in between Palm Springs and the beaches south of L.A., Kurt has your next California golf getaway covered from beginning to end!
»

Marcus Blake
Golf Vacation Specialist
Phoenix / Scottsdale Office
Marcus, a professional golf instructor and golf travel writer, started playing the game at the age of 5. His uncle was an amateur golf champion and at 9 years old, Marcus was regularly attending PGA clinics. He became a caddie at 12, carrying not one but 2 bags, as well as guiding and teaching golfers even at such a young age.
Marcus was born and raised in New Jersey with grandparents living in Florida. He eventually moved to the Sunshine State where he spent six years raising 2 children - Adam & Karli - in Ft. Lauderdale. While still in the resort development and travel industry, Marcus transferred to Denver (America's new golf destination at the time) in 1996 and decided to start commuting between there and Scottsdale/Phoenix, ensuring he could teach golf 12 months a year.
»

Todd Krauss
Golf Vacation Specialist
Mid Atlantic Office
Todd who "used" to be a stick... now is a better than average hack... attended Coastal Carolina University and Horry-Georgetown Tech with ambitions to become a golf pro.
After taking a turfgrass class, he switched majors and then graduated with a degree in turfgrass science. After many years as a Golf Course Superintendent, he has now joined the Golf Zoo team! With his extensive agronomy knowledge, you can feel confident in his course recommendations.
Family is a huge part of his life. He is an amazing father to his 4-year-old daughter Hannah and is always trying to get her and his girlfriend Argie out on the course with him.
»

Rick Holofcener

CEO
Chiang Mai, Thailand Office
Rick, a serial entrepreneur, has started many travel related businesses since 1982 including Tours de Sport, Golf Zoo, EasyRes Technologies, and ResLogic. His 25+ years experience operating leisure travel companies coupled with his experience creating reservation systems and online booking engines for the travel industry has helped keep their travel businesses on the cutting edge. Rick is currently living in Chiang Mai, Thailand and enjoys playing golf as often as possible.
»

Ed Holofcener
Owner
Baltimore, MD
West Palm Beach, FL
Ed was born and raised in Baltimore, MD. Happily married to his wife Janine for over 33 years (Wow!) Their son Adam is also happily married for 2 years and live in Baltimore. Their daughter Ashley is in the tech world and lives in Washington DC. Ed and his wife are now "snowbirds" and elude the cold weather by spending over 1/2 the year living in West Palm Beach, FL. They travel quite a bit "testing" out various golf courses around the US and beyond with recent golf trips to Pebble Beach, Scotland and The Masters......It's a tough job but somebody has to do it! His biggest thrill in golf came in 2014 when he took on the "Extreme 19" at Legends Golf & Safari Resort in South Africa (check it out on YouTube). He also played in the Honda Classic Pro-Am in 2015 with Boo Weekley on his team and won the event! Ed started Golf Zoo with his brother Rick in 2001. They also own Tours de Sport, a ski travel company, which celebrated it's 34th year in 2016.
»

Jean FitzGerald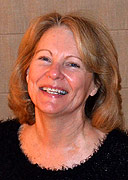 Vice President of Finance and Operations
Baltimore Office
Born and raised in Baltimore, Jean's attempts at skiing revolved around the Annual "Spider" Sabich Memorial Ski Club trek to Seven Springs. That lasted about 4 years and then it was time for a new sport and a new boyfriend. Started with Tours de Sport in 2001 as the Financial and Personnel Manager and she has stayed safely behind her desk ever since.
»

Chad Orton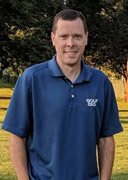 Director of Marketing
Baltimore Office
Chad, a father of 3, has lived most of his life in Upstate NY, but after graduating from SUNY Oswego with a degree in Marketing, he moved to the Baltimore area. Interest in both marketing & computers brought him to the Golf Zoo team in 2004 as the eMarketing Manager. With a Handicap thats too high to even say, he continues to work on his game to improve.
»

Craig "Lipskippy" Lipinski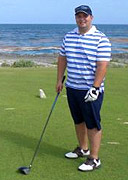 Operations Manager
Baltimore Office
Craig has spent his entire life in the Baltimore area. After graduating from Towson University with a degree in Marketing in 2008, he started at Golf Zoo/Tours de Sport in the operations department where he currently resides as the Operations Manager. He has been fortunate enough this past summer to have 2 holes in one - unfortunately both in mini-golf! In his free time, he also enjoys jamming on his guitar to his favorite music.
»

Jessica Evanick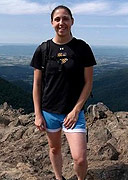 Marketing Specialist
Baltimore Office
Jessica, a New Jersey native, has relocated to Baltimore since graduating from college at Towson University in 2014. During her 4 years there she was a student-athlete as a goalkeeper for the women's soccer team. She started with Golf Zoo as an intern but after graduating with a degree in Marketing, she began working full time the following summer. In her free time Jessica enjoys playing sports, watching Netflix, and hiking.
»

Snowy

Mascot
Baltimore Office
Snowy started with Golf Zoo in 2005 and has learned a lot in the time she has been here. She takes great pride in working here and is very eager to come to work each day. She has kept the office a "cat-free" environment during her tenure here. She has lived in the Baltimore area her whole life and is very familiar with the lay of the land. She does not golf but has been known to chase the occasional stuffed animal.
R.I.P. 1995 – 2009.
Contact Us
Email:
Social Networks:
Telephone:
Fax:
Mailing Address: