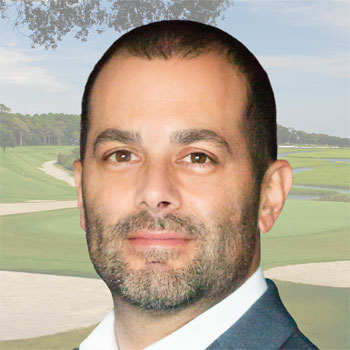 Jamie Roderick
Golf Vacation Specialist
Myrtle Beach, SC
Jamie Roderick, originally from Bristol, RI, moved to Myrtle Beach in 2001 after graduating from Northeastern University, in Boston MA, with a Bachelor's Degree in Criminal Justice. After graduating, Jamie worked as a private investigator for a Criminal Defense Attorney in Boston for 5 years, but his love for golf took him south to Myrtle Beach where he's lived, worked, and played for the past 18 years. Jamie's had the privilege of managing several premier courses in the Myrtle Beach area and has played courses all over the region. He currently lives in Murrells Inlet with his wife Kristy and daughters, Marissa and Londyn.
When he is not working, Jamie enjoys time at home or traveling with the family. When he does get free time, he enjoys CrossFit, golf, basketball, and watching his favorite team, the Seattle Seahawks... GO HAWKS!
Jamie's expertise lies in:
Reviews for Jamie Roderick:
Jamie was awesome. I was tough customer with many changes. He was very patient and informative. Great guy.
Lonny O, from FL
Jamie was great with the planning of recent golf trip to Sandhills NC! Our group had some changes along the planning stages as well as some requested course locations and tee time preferences. Jamie/GolfZOO was right there the whole way to accommodate a smooth, worry free experience. Already planning for 2023!
Mike S, from MA
Jamie has been very helpful with all of my trip needs and concerns for my vacations.
Frank, from NY
Amazing crew here, we have been using them for years. Always a great trip with no worries. Jamie takes care of everything. Awesome company.
Lea, from VA
Our experience with Jamie and Golf Zoo exceeded our expectations. Response time on questions and clarifications were quick and prompt. We definitely will use Golf Zoo when planning our next golf excursion.
GolfNutFl, from FL
Jamie was a great coordinator and it was a smooth process.
Joseph M, from TX
Excellent service all around, from golf course selection, to tee times, to lodging accommodations. Communication was responsive, positive and Jamie and his team provided great recommendations and thorough answers to our questions.
Jim A, from PA
It's real simple... if your looking to play golf on the East Coast, call Jamie Roderick.
Nicholas P
Our experience has always been great with Jamie and Golf Zoo. From answering logistical questions to piecing together a great trip, we have been pleased with our Golf Zoo services.
Clark M, from TX
Jamie was extremely helpful in planning my golf trip with course knowledge and flexibility in scheduling
JF
Jamie at golfzoo was awesome to work with. Helped us with any questions we had and was very responsive! Highly recommend!
Larry B, from VA
Jamie is the best, always goes out of his way to give us the best courses at the best price.
Denny, from PA