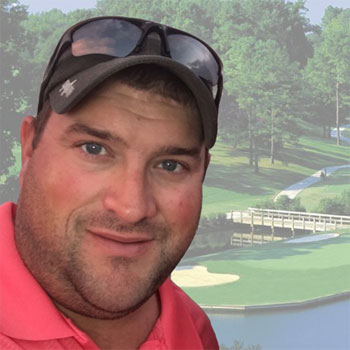 Todd Krauss
Golf Vacation Specialist
Myrtle Beach Office
Todd who "used" to be a stick... now is a better than average hack...attended Coastal Carolina University and Horry-Georgetown Tech with ambitions to become a golf pro.
After taking a turfgrass class, he switched majors and then graduated with a degree in turfgrass science. After many years as a Golf Course Superintendent, he has now joined the Golf Zoo team! With his extensive agronomy knowledge, you can feel confident in his course recommendations.
When Todd is not out on the links he is an avid hunter with his own "secret" jerky recipe!
Family is a huge part of his life. Todd is an amazing father to his two daughters, Hannah and Izzy, and is looking forward to teaching them and his fiancee Argie the game of golf.
Todd's expertise lies in:
Reviews for Todd Krauss:
Todd Krauss at Golf Zoo is a rock star. He is the most professional person I have ever worked with and your organization is the same.
Pam, from MD
Todd at Golf Zoo was able to get us the tee off times we wanted on the courses we wanted to play. Great value and we will be booking with Golf Zoo again.
Dan, from ON
Todd Krauss was a pleasure to deal with. He accommodated my requests and when a health issue occurred with one of my group he said not to worry. We will deal with it, if and when the time comes. We also talked about future trips and Todd provided insight about a variety of destinations.
Ron M, from ON
Todd Krauss of Golf Zoo was a very knowledgeable guy about golf in Cabo San Lucas. He coordinated our trip in excellent fashion. The courses we played were outstanding, accommodations were great, and his ability to get us rental cars at prices better than the online options was particularly good.
Richard W, from CA
Trip was well organized. tee times and courses were coordinated and met our expectations for caliber of courses. Todd was flexible as the usual names changed. Emails with vouchers and directions were received in plenty of time to review.
Don, from OH
Most excellent! Golf Zoo and Todd Kraus did an excellent job making the arrangements for the trip and making sure that we had everything we needed for a successful golf vacation.
Bruce F, from PA
Todd was so great to deal with. Would definitely do again
Marty L, from NY
Todd was awesome and we definitely recommend him to anyone booking a golf holiday.
Jim O, from BC
Todd was a big help planning our golf trip. He was responsive and professional. When there were reservation issues he stepped up and handled them well. Everything went off without a hitch. We are planning our third trip in a row with Todd for next year. He's done us well.
Jim V, from MI
Todd was very helpful ... when we had a course "conflict" he came up with a very acceptable solution. Courses were great; accommodations were very good .. All in all, I would use Golf Zoo and Todd again
Hilton H, from NC
I had a fantastic experience with Golf Zoo, regarding a recent trip to Myrtle Beach with 12 golfers. My Golf Vacation Specialist was Todd Krauss. Todd is always accessible, pleasant, professional and a pleasure to work with.
Super M, from NY
Golf Zoo customer service people(esp. Todd Krause) were extremely courteous and knowledgeable with this customer on a numer of occasions. Any minor check-ups on my part or minor changes were handled very quickly and appropriately.
Bob O, from PA