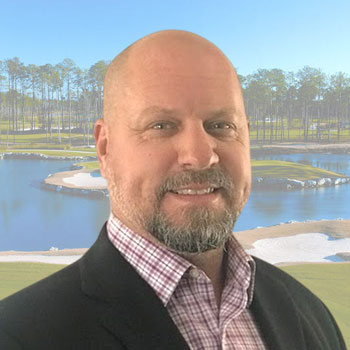 Eddie Willever
Golf Vacation Specialist
Myrtle Beach Office
Eddie is your Ocean minded golfer. Born in the small beach town of Belmar NJ, he has never lived further than a bike ride from the sand and surf. Growing up he played all sports and had a deep love for baseball. His passion for the sport of baseball drew him to the Carolina shores at the age of 17. There he attended CCU and quickly fell in love with the overwhelming struggle we call "golf". The decision was made to trade in the bat for a set of clubs.
Eddie has resided on the Grand Strand for 29 years and has seen every golf course come and some go. With his feet firmly planted in the grand strand golf community, he has done it all from bag drop to Head Golf Professional. After a decade of golf operations, he has followed his passion to become a golf vacation specialist. Now, his focus is on providing the best golf experience for his customers using his insider knowledge.
This family man is always on the move with his wife Courtney and his three kids. Days off are spent at the beach, pool, boat or golf course. Did we mention the Caribbean or Sailing? It all starts with golf, the rest is just vacation.
Eddie's expertise lies in:
Reviews for Eddie Willever:
My contact with GolfZoo was Eddie Willever, who was excellent. This was our second year do this trip. This year however, was a bit of a scramble. I messed up the dates and had to have Eddie fix it last minute. Our fourth canceled late and the 3rd didn't know if he could even play until he got down there due to a medical issue. I couldn't phase Eddie with all my issues, lol. He handled everything I threw at him and we had a great time down there. Our trip next year may be taking us elsewhere but I'm saving his contact info for the next time we do go back.
Larry B
Golf Zoo is a one stop shop for planning a golf trip. All I had to do was jump on a quick 15 min. phone call with the sales rep, Eddie W., and explain what my group was looking for. Eddie provided recommendations based on what we wanted. He was knowledgeable of all the courses and resorts in the area. After the call, Eddie took care of everything. We were booked and paid for within a day. I will definitely use Golf Zoo and Eddie W. again for my next golf trip.
James