Why Choose Golf Zoo?
Local Knowledge

Golf Zoo is the only national Golf Vacation company that has their Golf Vacation Specialists in the destination they service.
Monterey Specials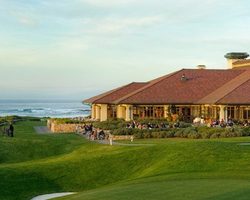 Pebble Beach, Spyglass, Links at Spanish Bay, and Del Monte for $619 per person, per day! It's a once in a lifetime opportunity to play the #1 golf course in the world, along with world famous Spyglass Hill, Links at Spanish Bay, and Del Monte while relaxing in luxury at The Inn at Spanish Bay!
Package includes:
4 nights at the Inn at Spanish Bay (Double Occupancy)
Golf with cart at:

Pebble Beach Golf Links
Spyglass Hill Golf Club
Links at Spanish Bay
Del Monte Golf Club
This package is valid from November 19th, 2017 through March 31st, 2018.
Price based on double occupancy per room. Extra nights available. Other courses available.
$619 per person per day, valid 7 days per week
Ref# 833154
Request Quote
Video: The Pebble Beach Resorts Experience
Monterey - California's "First" City - is located along the Pacific coast of Central California. It's home to a deep-rooted history of golf, courtesy of Pebble Beach and Pebble Beach Company. Pebble Beach is not a city in itself but rather an asset of the Pebble Beach Company. What was originally known as Del Monte Properties Company way back in 1919, is now site of the prominent Pebble Beach Golf Links, The Pebble Beach Lodge and the prestigious The Inn at Spanish Bay. Since 1947 has also been home to the AT&T Pebble Beach National Pro-Am, hosting tournament winners from Jack Nicklaus, to Phil Mickelson, to Tiger Woods, and more!
Each year, golfers flock this exciting vacation destination to experience nature at its finest at the magnificent layouts designed by top golf professionals. While on play, guests can't help but stand rapt in awe for the amazing harmony of layouts and the majestic coast. Aside from the premier and challenging golf, Pebble Beach Resorts also provides guests with comfortable accommodations and sees to it that there is plenty of room for everyone.
Golf Zoo offers the best golf courses available as well as your choice in accommodations. Create a custom online trip quote 24/7 by selecting your dates and number of adults on the trip quote box on the right side of this page. Creating your own custom golf package to Monterey has never been easier. Please use our Interactive Area Map to assist in choosing your golf courses and accommodations, it's really easy to use and gives you lot's of information - including directions, overhead satellite views, complete listing of golf and lodging properties, images & descriptions!
Pebble Beach®, Pebble Beach Resorts®, The Lodge at Pebble Beach™, The Inn at Spanish Bay™, Pebble Beach Golf Links™, Spyglass Hill™ Golf Course, The Links at Spanish Bay™, The Spa at Pebble Beach™, Pebble Beach Beach & Tennis Club ™, The Spanish Bay Club™, Stillwater Grill™, The Bench™, Peppoli at Pebble Beach™, Roys at Pebble Beach™, STICKS™, Traps™, 17- Mile Drive™, The Lone Cypress™, Pebble Beach™ Golf Academy and Practice Facility, Pebble Beach™ Equestrian Center, and their respective underlying distinctive images are trademarks, service marks, and trade dress of Pebble Beach Company. Used under license.
Photo Credits:
©Tom O'Neal. Reproduced by permission.
©Joann Dost. Reproduced by permission of Pebble Beach Company.
For an instant trip quote 24/7, please use the orange trip quote box found at the top of the page. OR click on the "Toggle Trip Quote Request Form" button to display the trip quote request form below. Fill out the form and our golf vacation specialists will get back to you soon.