Golf Travel Made Easy. Golf vacation packages to Mississippi. Take advantage of our deals, discounts, the best planning advice, or create your own stay / play package.

Click to view Hot Deals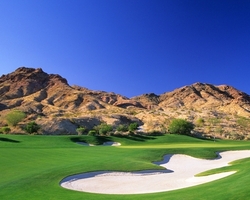 Known throughout the world for the unprecedented glitz, glamour and imagination of its casinos, Las Vegas, Nevada, has quietly emerged as one of the United States' fastest growing golf destinations. Dozens of exceptional golf courses have opened within the past several months and the growth doesn't appear to be slowing. Las Vegas' huge convention center and countless hotel rooms make it a natural for large-scale golf events. Couple this with Las Vegas' year-round sunshine and mild temperatures, and you've got a golf destination to rival any in the country. Plus, the city never sleeps, so there is always plenty to do after a full day of playing golf. "What Happens in Vegas Happens with Golf Zoo!"
Mesquite, Nevada is the home of many of southern Nevada's fine artists and their galleries. Their inventive outlook proved the beauty of their golf courses raised from the dry ground of Mesquite. The canyons and valleys present artistic quality to the ogle of golfers walking on the greens to take their tee. The simplicity of Mesquite is it` s magnificence. The curves of the swing and the flight of golf balls are guided by the wind of a medium speed that added to excitement and challenges.
There are about the same number of golf courses in the Reno/Lake Tahoe Basin as there are ski resorts. Named one of the top golf destinations in the world in the year 2000 by Golf Digest, Reno-Sparks/Lake Tahoe boasts many golf courses all within 90-minutes of the Reno/Tahoe International Airport. From tree-lined fairways, to mountainside links, to the dramatic views of Reno-Sparks and the crystal blue waters of Lake Tahoe, golfers will find a variety of courses designed to challenge and inspire. During the winter, a fan of both sports can golf and ski on the same day! Many of the golf courses around Lake Tahoe are 6,000+ feet above sea level. Because of the high elevation you will get an extra 6 to 10 percent more distance than at sea level. A good rule is thumb is to hit one club less than you would at home. Come see for yourself all the wonders Reno/Lake Tahoe has to offer. We Plan. You Play. Golf vacation package deals to Reno / Lake Tahoe, Nevada with exclusive discounts are backed by the best service in the industry. Create a custom online trip quote 24/7 by selecting your dates and number of adults on the trip quote box above. Creating your own custom golf package to Reno / Lake Tahoe has never been easier. Reno / Lake Tahoe Golf Package Deals - Save up to 40%